NN-DafYomi
Daf Yomi – Perek HaTekhelet (Menachot 38a)
Once every seven years, daf yomi learners reach the 4th chapter of Menachot, which includes the largest Talmudic concentration of laws pertaining to Tzitzit and Tekhelet. Ptil Tekhelet has collected various articles, shiurim and other resources to aid those interested in understanding the Talmud's discussion.

To download the pamphlet click here >>
New Online Shop
All New - Ptil Tekhelet Online Shop
Purchasing Tekhelet is no easy task - let's be honest, it's complicated! Years of experience together with your feedback has resulted in an all new online shopping experience that will help make your next Tekhelet purchase easier.
Check out our new Online Store. Users enjoy a 5% discount on all items. Enter coupon code ONLINE at checkout.
NN-Pompeo
Israel Presents America with a Flag made of Tekhelet
Israeli Prime Minister Binyamin Netanyahu presented US Secretary of State Mike Pompeo with a unique gift on his recent visit to Israel: a beautifully framed Israeli flag whose blue stripes and Star of David were dyed with authentic Tekhelet.
We at Ptil Tekhelet are honored to have created this special gift which so beautifully brings together the past and present of the Jewish people.
The gift highlights the strong and everlasting bond between the two countries.
Hechsher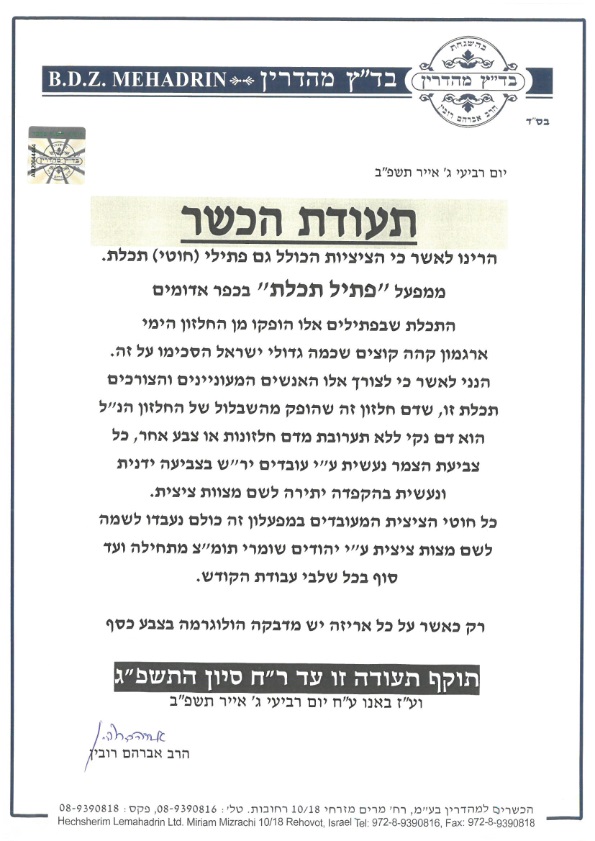 Hechsher – Rabbinic Certification
Ptil Tekhelet's production is certified Badatz Mehadrin under the authority of Harav Avraham Rubin of Rechovot, Israel

Click Here to see the up-to-date certification and its translation >>